A SUPER QUICK RECIPE that not only tastes great but is also good for you!
We all know broccoli is the king of vegetables (YES it is really good for you and together with BURPEES, it should be one of your favourite things in life!); mix it with almonds and you end up with a super nutritious meal, packed with vitamins, minerals, protein and antioxidants. The best part? it takes less than 30 minutes to make!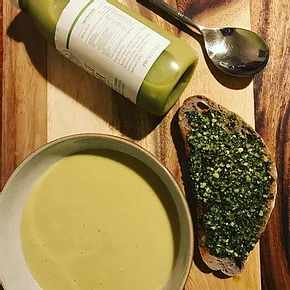 INGREDIENTS
150 gr blanched sliced almonds
2 tablespoons EVOO
1 medium onion, finely chopped
2 cloves garlic, finely minced
1 potato (medium)
750 ml vegetable stock
1 head of broccoli (around 500 gr. Use the stalk and leaves too)
Salt and freshly ground pepper, to taste
Optional – 4 tablespoons of coyo coconut yogurt (non dairy)
Add the reserved almonds to the soup
METHOD
Place the almonds on a tray and put them under the grill until slightly brown (careful not to burn them or you will have to throw the soup away!).
In a large  pot, medium heat, sweat the onion and garlic until the onion goes transparent. Add the broccoli for one minute, then the stock and potato.
As soon as it starts to boil, lower the hear, add seasoning and about 3/4 of the almonds. Let it simmer for 15 minutes.
Use a blender (if you use a powerful one like a vitamix, you will not need to use yogurt at the end) and turn it into a cream.
To serve, simply sprinkle some of the left over almonds on top.
Enjoy!