SHIPPING & DELIVERY
OUR DELIVERY DAYS
We offer delivery throughout the Rep of Ireland and Northern Ireland on Tuesdays, Wednesdays and Fridays (day after production).
Once your order has been placed via the website we will email you confirm the next available juicing day and delivery day. If this date does not suit you please email us immediately with your preferred date.
Please make sure to enter your EIRCODE/POSTCODE as this allows for easier delivery.
Please note we cannot deliver on Mondays as neither ourselves or DPD/EASYDEL couriers operate on Sundays.
OUR DELIVERY SERVICE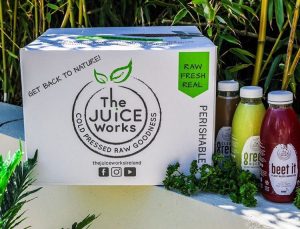 All our juices are delivered by DPD or EASYDEL couriers using a next day delivery service. We use special perishable food labels which means that our packages are prioritised and consequently 99.9% of them are delivered the day after production.
Please DO NOT RESCHEDULE your delivery  with the courier as this will have your parcel in transit for an extra 24+ hours.
Unfortunately we have no control over delivery times.
All of our juices are delivered in sturdy triple strength layered boxes, with frozen gel packs and foil insulation. These are pre-cooled before sealing your order to ensure your juices arrive chilled (not frozen). Once your order arrives, place the contents in the fridge/freezer. Once the products are delivered, we cannot be held responsible for juices that are left to spoil or that have been misplaced or stolen.
All of our products have a 5 day shelf life in the fridge and 4 months in the freezer.
For customers purchasing a Cleanse Programme, we recommend receiving your delivery the day before the intended start date of your cleanse. This will ensure that you are able to start at your desired time. 
CANCELLATIONS
Cancellation requests for orders placed must be submitted by contacting our team right away. This means notifying us before the scheduled production day in order to give us time to communicate the change to our juicing team. Kindly note that we may not be able to guarantee the cancellation outside of this time window.
RETURNS
At The JUICE WORKS, we are committed to delighting our customers with the best tasting and highest quality products. This doesn't happen overnight and requires continuous improvement that comes from listening to our customers and taking all feedback into consideration to enhance the overall customer experience.
That said, we recognize that sometimes mistakes may happen. If for any reason we deliver a service or product that has not met your expectations, we want to know and we will do everything we can to work with you to make it right. To help us to do this, please provide us with a photograph and a full description of the issue so we can fully investigate the problem.